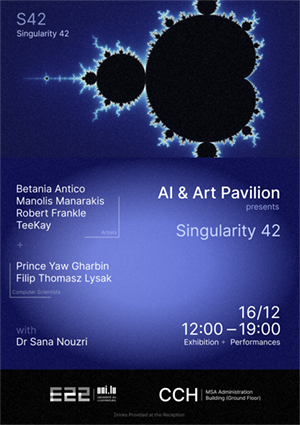 As part of the University of Luxembourg's AI&Art programme, the conclusion of Singularity42! is presented.
The opening event takes place on Friday, 16 December 12:00-19:00. The installation remains open until Friday, 23 December, 10:00-12:00 and 14:00-18:00.
A presentation of the new interactive installation developed as a collaboration between Robert Frankle, Betania Antico and Manolis Manarakis, Narcissus.
During the event and for the duration of the exhibition, Narcissus has been installed in a separate room within the AI&Art Pavilion. Visitors can immerse themselves individually in the artwork and interact with it.