Fundraising initiative
with my work Eau de Venise available.
Free entry to the fundraiser at Mudam Grand Hall
In response to the current humanitarian crisis in the Ukraine, the Luxembourg art scene is mobilising to raise funds. Several artists, in collaboration with Mudam Luxembourg and the Bert Theis Archive, are organising a sale of artworks in the heart of Mudam.
100% of the funds collected will be donated to humanitarian organisations helping the victims of this conflict. Through this initiative, the Mudam wishes to express its solidarity, and work for a more inclusive and responsible vision of the world.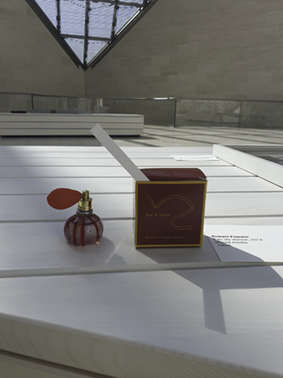 Participating artists: Yann Annicchiarico, Christian Aschman, Tessy Bauer, Laurianne Bixhain, Justine Blau, Mike Bourscheid, Serge Ecker, Rozafa Elshan, Michel Feinen, Martine Feipel & Jean Bechameil, Robert Frankle, Irina Gabiani, Patrick Galbats, Tina Gillen, Marco Godinho, Anne-Marie Herckes, Hisae Ikenaga, Sophie Jung, Lisa Kohl, Boris Loder, Catherine Lorent, Filip Markiewicz, Lidia Markiewicz, Karolina Markiewicz & Pascal Piron, Carole Melchior, Max Mertens, Franck Miltgen, Suzan Noesen, Claudia Passeri, Gilles Pegel, Armand Quetsch, Mary-Audrey Ramirez, Bob Reinert & Philippe Schockweiler (Géisskan Kollektiv), Daniel Reuter, Letizia Romanini, Eric Schumacher, Bert Theis, Vince Tillotson, Nina Tomàs, Charles Wennig, Hubert Wurth …